Is Your Car Ready For Winter?
7 Ways To Make Sure Your Car Is Ready For Winter!
It's that time of year again; Shorter days, low temperatures, frost on the windscreen… It can only be Winter!
In this article, we'll show you 7 easy ways that you can check if your car is ready for the cold season. By following these top tips, you'll ensure a safer journey to your destination, in what can be unpredictable or dismal weather conditions.
Check Lights
Throughout Winter, the shorter days can make it feel like we're living in perpetual darkness! Dark when you leave for work and equally as dark on your way home! With all this travelling in the dark, it's important to make sure all of your car's lights are working as they should. It could make all the difference in avoiding being stopped by the police or worse, having an accident!
To check your lights are all working, you'll need a friend or someone you know to help you. Whilst in your car, turn each light on one by one, and ask your friend to go around the car and check to see they are lighting up correctly. Always carry spare bulbs just in case!
Windscreen Wash Fluid
It's always important to check your windscreen wash to ensure you can efficiently remove the road traffic film that builds up on your screen. When topping up, make sure that you always use proper windscreen wash and not water or washing-up liquid. This is due to the fact that water will be far less effective and will freeze in low temperatures. Washing-up liquid on the other hand, contains a cocktail of un-desirable ingredients making it highly unsuitable to use as a screen wash (contrary to popular belief). It contains salts that aid corrosion of bare metal; Formaldehyde that causes wiper blade rubbers to deteriorate prematurely, and Sodium Laury Sulphate made from animal fats that will biodegrade and create a horrible smell.
Screen wash fluid is specifically formulated for the sole purpose cleaning your windscreen without causing any unwanted effects.
Check Wipers
Make sure you check your wipers! Check your wiper blades to make sure they're not split or worn. Next, check from inside the car to ensure your wipers are effectively clearing your windscreen without any smudging or smearing. With visibility frequently reduced throughout the season, it's important to clear your windscreen properly.
Check Antifreeze
Antifreeze, is a necessity to stop your engine cooling system from freezing in the cold winter conditions. You can check the effectiveness of your antifreeze,by purchasing an antifreeze tester kit, which cost about £5. To use it, first ensure that your engine is cold, unscrew the coolant reservoir cap and then lower the tube into the coolant. You then draw up some antifreeze out of the reservoir into the tester, by squeezing the the rubber bulb on the end.
The tester has a gauge which will show you the levels of antifreeze within your engine. Replace the antifreeze in the car's system as required.
Check Your Car Battery
The wet and cold weather that winter brings, is a battery's worst nightmare. There's almost nothing as sad as the sound of a dying car battery as you turn the key in the ignition. If your battery is having difficulties starting your car, it's more than likely to be approaching the end of it's life.
With the correct equipment, you can test the battery yourself, but it's recommended that you seek a specialist. If you can start the car, it's far more practical to make your way to your nearest dealer or car spares shop, and purchase a new one.
Prices of batteries will vary depending on size, and can cost from approximately £60 fitted.
Cars fitted with stop-start technology will cost more, depending on the size, type and the electrical current produced. But with so many different types of batteries, It's important to get correct one for your car, so again, seek the help of a qualified specialist.
If you're car won't start, you can jump start it or remove the battery and charge it indoors. However this can be difficult and it's important to check your owners manual before you begin.
Photo: advancedbatterysupplies.co.uk
If you're unsure, call 01323 459952 to book an appointment to have your battery checked by one of our specialists.
Winter Tyres
If you plan on using your car regularly throughout winter, it's important to consider buying a set of Winter tyres.
Winter tyres have far superior grip in lower temperatures and can still provide good grip in snow and ice. They're not always a cheap fix, but the extra investment is exceptional value for money for the additional safety they provide.
If you decide against Winter tyres, you should definitely make an extra effort to check your tyre pressure and tread depth. The legal limit for tread depth is 1.6mm, but having more is greatly recommended as this can dramatically improve steering and braking. We suggest changing tyres when tread depth is between 2-3mm. Tyre pressures should be checked regularly all year round. Consult your owners manual to find the correct tyre pressure for your car.
Winter Emergency Kit
Finally, it's important to keep a few extra supplies in your car in case of any emergency.
Here is a list of items to consider keeping in your car throughout the winter:
A blanket, or sleeping bag.
First aid kit.
An ice scraper and de-icer.
A torch.
Snacks.
Water and/or a flask.
Extra bottle of screen wash.
Jump leads.
A shovel.
Hi-Vis jacket.
Waterproofs
Phone charger or power pack.
Not the hands-on type? Then why not bring your car down to our dealership, where one of our fully qualified technicians will perform a complete Winter check up for only £24.99, and you'll even recieve a free 'Travel Pack' worth £15!
As well as our Winter check, the team here at Brooklyn Hyundai love MOT's, and for just £39.95, you will too! That's a saving of £15! We provide MOT's and servicing for any make or model of car, not just Hyundai so there's no excuse not to grab a great deal. Call us on
01323 459952 to book your appointment.
Latest News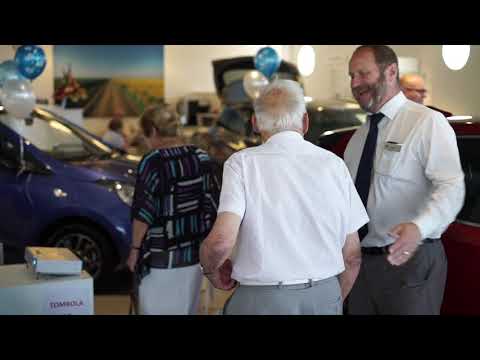 Our 40th anniversary event was extremely successful and it was great to…
Read more >
The i20 has had a facelift! The i20 introduces a number of new connectivity and…
Read more >